I'm happy to release a piece of work that I like a lot — the Wax MP3 player for the Magnatune catalog.
The Wax MP3 player is a common codebase for semi-customized music players. The first one of these projects was Fresh Hot Radio, a curated set of links to net-born electronic music under a libre or feels-free license. That came out back in March.
The new project presents the Magnatune label's existing catalog in a new way. Compare and contrast these two presentations of the same baroque music catalog on Magnatune.com.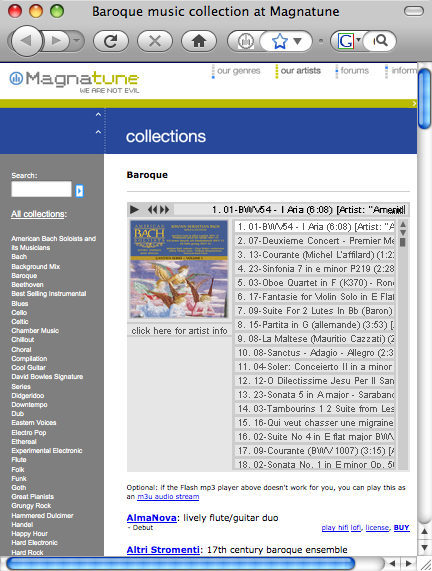 The Wax MP3 page for Magnatune's baroque music: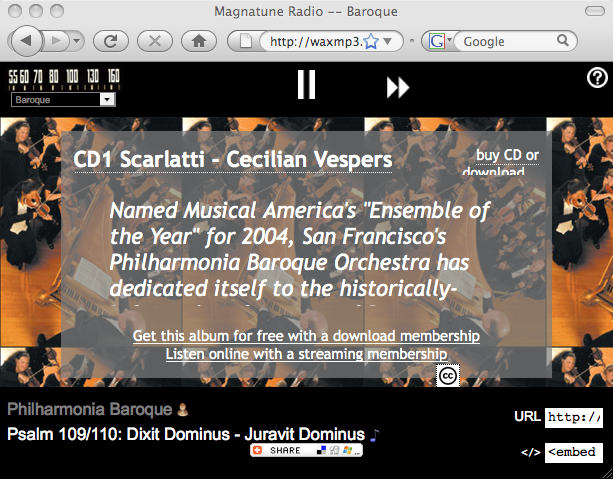 What's it all about? Think of it as Ubuntu for Creative Commons music. In the same way that Ubuntu delivers user friendliness for Linux desktops, the Wax MP3 player is able to do a sleek and simple listening experience with netmusic.
I hope you dig it. If not, and if you see any bugs, send an email to email@waxmp3.com.
Magnatune founder John Buckman has a blog entry about this new Waxna Mag MP3 Tune experience. Check it out.
---
It's great to work with such an enlightened music business as Magnatune. I know that's the most obvious thing in the world if you know them, but even when you know it you don't really know it until you get up close. This whole deal is really built on their openness and calm confidence.
---
While I've been working in this project I've been really getting into Magnatune's classical catalog. AFAIK there's nobody on the open web even close to their level. Here are my favorite "stations" on the new Wax MP3 player for Magnatune:
---
Wax MP3 Corp. is the new company. No doubt I'll waste buckets of electrons writing about in the long run, but for today I'll leave it to the company home page to explain it this way: