Listening: RCRD LBL podcast 8.6.2008 (mp3). Great pocket for getting into the groove of the work.
Web page w/ individual song downloads here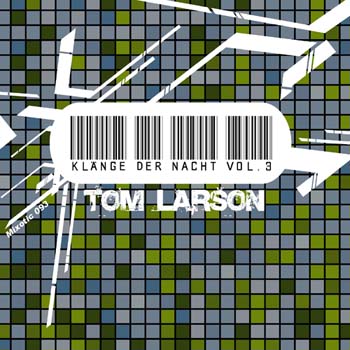 Tom Larson – "Klänge der Nacht Vol.3" (DJ set)
This is a dj set which is low, glitchy, and minimal. The individual tunes all seem to be net-based stuff, e.g. from the Wazzotic netlabel. I found it via Starfrosche.
I love this style for driving on the highway at night with the top down.
Set list:
01 – Peripherique – Koralle

Musicartistry 006 (www.musicartistry.de)

02 – Mike Less – Loran

SMT 001 (www.smt-rec.de)

03 – Rene Hamel – Nonamed (M.Masuhr Remix)

Insectorama 004 (www.insectorama.de) 04 – SCSI-9 – Time's Up

Fragment 005 (www.fragmentmusic.net)

05 – Max Marlow – Skorpion

Kreislauf 004 (www.kreislauf.org)

06 – Zofa – Aria Giovani

Yuki Yaki 003 (www.yukiyaki.org)

07 – Igor O.Vlasov – Metamorph

Thinner 091 (www.thinner.cc)

08 – Yatsuo Motoki – Deep Trip

Stadt 003 (www.stadtgruenlabel.net)

09 – Acidrain – Sunday

Gruen 004 (www.stadtgruenlabel.net)

10 – K.Fog – K3

Musicartistry 031 (www.musicartistry.de)

11 – Phil Baker – 3Way

Ear-Min 012 (www.ear-recordings.nl)

12 – Clara Bailar – Being Deep With My Beat

Wazzotic 002 (www.wazzotic-records.com)

13 – Christoph Schindling – Modulator

unreleased

14 – Klartraum – Desoliert

Deep In Dub 001 (www.deepindub.org)

15 – Pellarin – Dependency 6 Where Your Food Is Made

Yuki Yaki 001 (www.yukiyaki.org)

16 – Pete Larson – City Highway

Thinner 025 (www.thinner.cc)

17 – Dominik Paß – Rotationssphere

Dreiton 007 (www.dreiton.net)